A CH Mackintosh book on the Olivet Discourse by our Lord Jesus Christ on the Jewish Remnant, and the Jewish nation as they relate to Christ's teachings.
Contents of Olivet Discourse
Part 1. The Jewish Remnant
Part 2. Christendom: The Household Servant
Part 3. Christendom: The Ten Virgins
Part 4. Christendom: The Talents
Part 5. The Judgment
Charles Henry Mackintosh
Charles Henry Mackintosh (October 1820 – 2 November 1896) was a nineteenth-century Christian preacher, dispensationalist, writer of Bible commentaries, magazine editor and member of the Plymouth Brethren. He had a spiritual experience at age 18 through the letters of his sister and reading John Nelson Darby's Operations of the Spirit.
As a young man I, of course, walked in retirement, having no thought of coming forward in public ministry of any kind ... Indeed, I may say that nothing but the most solemn sense of responsibility could ever have induced me to stand up in public." He tried farming for a time, but he wrote to Darby on 31 August 1853 that the Lord had "called me into larger service than ever", and he soon concluded that he must give himself entirely to preaching, writing, and public speaking.
Soon after this he established a periodical named Things New and Old, which he continued to edit (with evangelist Charles Stanley, 1821–1890) from 1858 to 1890, Mackintosh took a great interest in, and actively participated in, the great Irish Evangelical revival of 1859 and 1860 (see Revivalism).[6]
Mackintosh's literary fame rests primarily upon his work Notes on the Pentateuch, beginning with a volume of 334 pages on Genesis, and concluding with a two-volume work on Deuteronomy extending to over 800 pages. These are still in print and have been translated into a dozen or more languages. Arno C. Gaebelein says of Mackintosh, along with other Brethren writers, "I found in [these] writings... the soul food I needed. I esteem these men next to the Apostles in their sound and spiritual teachings."
Writings of C.H. Mackintosh
C. H. Mackintosh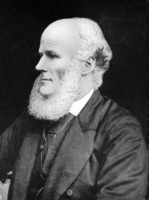 Biographical Note
(Mackintosh's works are available online at Stem Publishing.)
Notes on the Pentateuch
Short Papers: 123 in total.
Answers to Correspondents: 133 in total.
Articles
Letters to a Friend on the Present Condition of Things
The Bible — Its Sufficiency and Supremacy.
Christianity — What is it?
Words of Counsel.
God's Way, and how to find it.
The Ministry of Christ Past, Present, and Future.
The Ministry of the Spirit.
Miscellaneous writings
Book 1:
The All-sufficiency of Christ.
Discipleship in an evil day.
Forgiveness of sins: What is it?
Gideon and his companions.
Job and His Friends.
Final Perseverance: What is it?
The Christian: His position and his work.
The Christian Priesthood.
Regeneration: What is it?
Sanctification: What is it?
The Unequal Yoke.
Book 2:
The Assembly of God;
Decision for Christ.
"Gilgal."
"God for us."
Thoughts on the Lord's Supper;
"The man of God."
Prayer, in its proper place.
The Sabbath, the Law, and the Christian Ministry.
"Thou and thy house."
Now and Then;
Book 3:
Conversion: What is it?
Evangelization — A word to the Evangelist.
Papers on the Lord's Coming.
Christian perfection: What is it?
Pre-Millennial Doctrine or Waiting for the Son?
Simon Peter — His life and its lessons.
Book 4:
The Call of God — Abraham and Lot.
The Life and Times of David
The Life and Times of Josiah.
The History of the Tribe of Levi.
Book 5:
The Great Commission
The Life and Times of Elijah.
Glad Tidings
Ministry of Reconciliation
Book 6:
The Three Crosses.
The Christian's Mission
David's Companions and Paul's Friends.
"The dew of Hermon"
The Discipline of the Assembly
Diversity and Unity.
Divine Titles.
Epaphras, The Service of Prayer.
Eternal Punishment v Universalism and Annihilationism.
God's Fulness for an Empty Vessel.
Grace and Government.
"Holy Brethren"
"There is one body"
Israel and the Nations.
Jehovah's Demand and Satan's Objections.
John the Baptist — only "a voice"
Landmarks and Stumblingblocks
Life-works
Living by Faith.
The Living God and a Living Faith.
One-sided Theology
Our Standard and Our Hope.
"Peace"
Prayer and the Prayer Meeting.
"Publicly and from house to house"
Each Member — A Help or a Hindrance: Which?
"Ready"
"The regions beyond." 2 Cor. 10:16; and "Let us go again" Acts 15:36.
Saul of Tarsus
"Thyself and the doctrine."
The True Workman
Book 7:
The Three Appearings
Bethany
The Bible: Whence is it?
Christ in the Vessel.
Hezekiah — Work in its Right Place.
Jehoshaphat — Worldliness.
Jericho and Achor — Privilege and Responsibility.
Legality and Levity
The Passover in Egypt.
The Remnant — Past and Present.
Restoration
A Risen Saviour.
The Throne and the Altar.
The Two Musts.
Occasional Papers
The Blind Man, and the Pharisees who said "We see."
Communion with God: What is it?
The True Ground of Peace.
Unity: What is it? And am I confessing it?
Fifteenth Letter to a Friend.
The Church.
Words of Counsel.
God in Everything
False Worship.
A Word on Christian Intercourse.
Jacob Alone With God.
Jesus Risen.
Law and grace Exemplified.
The Lord Our Shepherd.
The Love of Jesus.
The Prisoner of Hope.
Inside the Veil, Outside the Camp.
theWord modules for download by C.H. Mackintosh

Are we a country of Laws? Are we a country of Laws? Is an examination of the question of we are a country of laws, and nobody is above the law, and what is really happening in our country. This is an opinion piece written in light of the news of the day. Topics: The Greatness of the United States of America | "Nobody is above the Law" | Comparisons | Defund the Police | No one is above the law | What one would ask for...

Excerpts from the article...
I say "for a person to have a right walk before God" meaning that what you personally do is acceptable in a level of being fair and just both what you do to others, and in the context of what others do to you. You only have a claim of somebody doing something "wrong" in a moral context, and this moral context has to begin with God's existence and God's laws over us before you get to what happens in a court of law in a country, state, county, or city.

Hebrews 11:6 But without faith it is impossible to please him: for he that cometh to God must believe that he is, and that he is a rewarder of them that diligently seek him.

This verse fully backs up this concept. To "please God" who is the Judge... The concept of "rewarder" is somebody that looks at actions and gives a reward or a punishment. This is ultimately God's task, and earthly judges must also answer to God, as those in their courts have to answer to that earthly judge. We posit God "must believe that he is" means they must accept the authority and controls (of blessing or curse, of reward or punishment) from the Judge. He exists. He has a forceful interaction with our lives.

The system that is built on this is a system where one person doesn't get anything different from another. Are there abuses? Yea, but life is full of injustices. But taking something from one person to give to another person is not the answer here especially when the person you are taking away things from really hasn't done anything wrong. Black people (Asians, etc.) need to enter shoulder to shoulder with every other person on an equal ground, and they need to compete. That is life. If they of their own merit and effort get ahead, so be it. But nobody owes them a living. Reparations are the opposite of this.
Read the article: Are we a country of Laws?