Mackintosh Notes on the Pentateuch is a work focusing on the five books of the Pentateuch, Genesis, Exodus, Leviticus, Numbers, Deuteronomy.
C. H. Mackintosh (1820-1896) was an Irish Plymouth Brethren preacher, Bible expositor, and author. Active in the Irish Revival of 1859-1860. For some forty years edited the monthly magazine, Things New and Old. His first tract, in 1843, was "The Peace of God," and his last, shortly before his death in 1896, was "The God of Peace." He created notes on Genesis to Deuteronomy.
Charles Henry Mackintosh
Charles Henry Mackintosh (October 1820 – 2 November 1896) was a nineteenth-century Christian preacher, dispensationalist, writer of Bible commentaries, magazine editor and member of the Plymouth Brethren. He had a spiritual experience at age 18 through the letters of his sister and reading John Nelson Darby's Operations of the Spirit.
As a young man I, of course, walked in retirement, having no thought of coming forward in public ministry of any kind ... Indeed, I may say that nothing but the most solemn sense of responsibility could ever have induced me to stand up in public." He tried farming for a time, but he wrote to Darby on 31 August 1853 that the Lord had "called me into larger service than ever", and he soon concluded that he must give himself entirely to preaching, writing, and public speaking.
Soon after this he established a periodical named Things New and Old, which he continued to edit (with evangelist Charles Stanley, 1821–1890) from 1858 to 1890, Mackintosh took a great interest in, and actively participated in, the great Irish Evangelical revival of 1859 and 1860 (see Revivalism).[6]
Mackintosh's literary fame rests primarily upon his work Notes on the Pentateuch, beginning with a volume of 334 pages on Genesis, and concluding with a two-volume work on Deuteronomy extending to over 800 pages. These are still in print and have been translated into a dozen or more languages. Arno C. Gaebelein says of Mackintosh, along with other Brethren writers, "I found in [these] writings... the soul food I needed. I esteem these men next to the Apostles in their sound and spiritual teachings."
Writings of C.H. Mackintosh
C. H. Mackintosh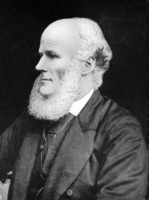 Biographical Note
(Mackintosh's works are available online at Stem Publishing.)
Notes on the Pentateuch
Short Papers: 123 in total.
Answers to Correspondents: 133 in total.
Articles
Letters to a Friend on the Present Condition of Things
The Bible — Its Sufficiency and Supremacy.
Christianity — What is it?
Words of Counsel.
God's Way, and how to find it.
The Ministry of Christ Past, Present, and Future.
The Ministry of the Spirit.
Miscellaneous writings
Book 1:
The All-sufficiency of Christ.
Discipleship in an evil day.
Forgiveness of sins: What is it?
Gideon and his companions.
Job and His Friends.
Final Perseverance: What is it?
The Christian: His position and his work.
The Christian Priesthood.
Regeneration: What is it?
Sanctification: What is it?
The Unequal Yoke.
Book 2:
The Assembly of God;
Decision for Christ.
"Gilgal."
"God for us."
Thoughts on the Lord's Supper;
"The man of God."
Prayer, in its proper place.
The Sabbath, the Law, and the Christian Ministry.
"Thou and thy house."
Now and Then;
Book 3:
Conversion: What is it?
Evangelization — A word to the Evangelist.
Papers on the Lord's Coming.
Christian perfection: What is it?
Pre-Millennial Doctrine or Waiting for the Son?
Simon Peter — His life and its lessons.
Book 4:
The Call of God — Abraham and Lot.
The Life and Times of David
The Life and Times of Josiah.
The History of the Tribe of Levi.
Book 5:
The Great Commission
The Life and Times of Elijah.
Glad Tidings
Ministry of Reconciliation
Book 6:
The Three Crosses.
The Christian's Mission
David's Companions and Paul's Friends.
"The dew of Hermon"
The Discipline of the Assembly
Diversity and Unity.
Divine Titles.
Epaphras, The Service of Prayer.
Eternal Punishment v Universalism and Annihilationism.
God's Fulness for an Empty Vessel.
Grace and Government.
"Holy Brethren"
"There is one body"
Israel and the Nations.
Jehovah's Demand and Satan's Objections.
John the Baptist — only "a voice"
Landmarks and Stumblingblocks
Life-works
Living by Faith.
The Living God and a Living Faith.
One-sided Theology
Our Standard and Our Hope.
"Peace"
Prayer and the Prayer Meeting.
"Publicly and from house to house"
Each Member — A Help or a Hindrance: Which?
"Ready"
"The regions beyond." 2 Cor. 10:16; and "Let us go again" Acts 15:36.
Saul of Tarsus
"Thyself and the doctrine."
The True Workman
Book 7:
The Three Appearings
Bethany
The Bible: Whence is it?
Christ in the Vessel.
Hezekiah — Work in its Right Place.
Jehoshaphat — Worldliness.
Jericho and Achor — Privilege and Responsibility.
Legality and Levity
The Passover in Egypt.
The Remnant — Past and Present.
Restoration
A Risen Saviour.
The Throne and the Altar.
The Two Musts.
Occasional Papers
The Blind Man, and the Pharisees who said "We see."
Communion with God: What is it?
The True Ground of Peace.
Unity: What is it? And am I confessing it?
Fifteenth Letter to a Friend.
The Church.
Words of Counsel.
God in Everything
False Worship.
A Word on Christian Intercourse.
Jacob Alone With God.
Jesus Risen.
Law and grace Exemplified.
The Lord Our Shepherd.
The Love of Jesus.
The Prisoner of Hope.
Inside the Veil, Outside the Camp.
theWord modules for download by C.H. Mackintosh
Advertisement
Bruce A. Baer wrote on Monday, 21 January 2019 05:34:
It is my opinion that theWord Bible Software is the most superior Bible Application there is! It can be tailored for the Beginner, in a simple form. Additionally; it can be tailored median, or; advanced. Module add on's make this the Student's Study Tool, or; The Ph.D. Head pastors Study / Teaching / Preaching Tool! To Conclude: I think it's just Wonderful! TY for it's developers - God Guided No Doubt!
Dwight wrote on Sunday, 23 December 2018 01:43:
What a blessing this software is. Not only that, it just blows me away that it is for free being that it is by far the best, and I mean the best Bible software out there in the market today.
You can either get the DVD, the flash drive (theWord on the go) or make your own backup copies and freely distribute them to people who actually need this software, those that don't know about it yet.
I have used every bible software program out there for years, including the famous Logos which I believe is just to overwhelming for anyone to use... and theWord is by far the best of the best.
It is just great software, ingeniously designed, powerful and fast.
I am a programmer myself however, I don't know what was used in the making of this software but it truly shows in its smooth performance and it caters to the bible student and those using it.
It has room to even get better I am sure but I am so happy with the latest version.
My hats off to theWord staff on what I feel is a beautiful creation of one of the most important tools one can have to study the bible in these last days.
BRAVO and to God all the Glory!
See more comments at Guestbook.